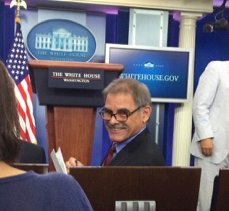 Who We Are — About Charles Babington and Jim Kuhnhenn
Charles Babington has been a high-profile Washington reporter for 25 years. After working for newspapers in North Carolina and Texas, he spent 16 years at the Washington Post, where he covered the White House, Congress, politics and other beats, and served as the paper's congressional editor. He reported on President Bill Clinton from 17 countries. In 1996 the Post nominated his work for a Pulitzer Prize in investigative reporting.
Babington also covered the White House and Congress for the Asso­ciated Press. He has written for numerous magazines, including The New Republic, Columbia Journalism Review, National Law Journal, Wildlife Conservation and The Journal of NIH Research. He also has written chapters for several books about elections and public policy.
For 12 years, Babington was a regular panelist on PBS's "Washington Week" (with Gwen Ifill). He also has appeared on CNN, MSNBC, Fox News, NPR, The Diane Rehm Show, On Point, To the Point, C-Span's NewsMaker, and other news programs.
Babington was born and raised in eastern North Carolina. He gradu­ated with honors in Islamic history from the University of North Caro­lina at Chapel Hill, where he was a Morehead Scholar and member of Phi Beta Kappa. He and his wife, Norma, have three adult children.
Jim Kuhnhenn has spent half of his 40-year journalism career in Wash­ington as newspaper bureau chief, editor and congressional and White House correspondent. He worked for newspapers in Pennsyl­vania and Missouri before The Kansas City Star put him in charge of the newspaper's Washington reporting team in 1993.
In 1998 he became the political editor for Knight Ridder Newspapers, directing coverage of the last two years of the Clinton presidency. He was Knight Ridder's congressional correspondent before joining the Associated Press in 2006 as a national political writer. Kuhnhenn covered the 2008 financial crisis and, two years later, the AP assigned him to the White House, where he focused on the economic recovery, jobs policy and immigration.
He is past president of the Washington Press Club Foundation and a former member of the congressional Standing Committee of Corre­spondents. He has appeared on MSNBC, NPR and C-SPAN and has been a panelist on IRE and Congressional Quarterly seminars. In 1997, he co-led two weeks of journalism and politics workshops in Ukraine.
Kuhnhenn was born in Chile and speaks Spanish fluently. He is a grad­uate of the Pennsylvania State University. He and his wife, Louise, live in Silver Spring, Md. They are the parents of two adult sons.